This post is written by NCTE member Kara Douma, reprinted with permission from Edutopia.
Historically, humanities courses rely on student writing as the product that not only determines the final grade, but also judges the learning experience that students received. Writing is a measure that demonstrates sophisticated student thought through proof of logic, lines of reasoning, organization, synthesis of evidence, and application of literary techniques wherein the student develops as a writer. An important goal of writing is to develop students who continue to grow as reflective and deep thinkers.
Two recent articles in The Atlantic, "The College Essay Is Dead" and "The End of High-School English," gained attention as a potential challenge to the primary student evaluation tool: the essay. One way to keep original thought alive in students is to consider instructional design. Or in other words, what occurs when students are sitting in front of a teacher during instructional time? Also, what happens behind the scenes to strategically plan for this time?
When teachers look at their control over instructional parameters, it's the time students are with them face-to-face. In this way, instructional design accounts for collecting authentic, real-time assessment in which teachers visually see and hear students' original thoughts. It also accounts for the heart of learning, or the relationship between student and teacher: a critical relationship that positions the teacher as mediator between where students begin and how they advance toward their goals.
With the looming temptation to use AI completely as a way to avoid writing, teachers continue to invest their efforts in creating an environment where students are more invested in classroom instruction and their growth as learners. The following are a few possible suggestions for teachers to consider that may help to keep original thought in writing alive for more students.
5 Ways to Maintain the Integrity of  Student Writing
Be transparent and honest. Tell students you are aware that they might get help to improve their writing via ChatGPT, Grammarly, online tutoring, in-person tutors, and other programs. Explain how you expect them to be smart and responsible if they explore these options. Explain how this course has certain conditions that will make it difficult to pass off any piece of writing that is not mostly from their own mind.
Establish conditions. Explain that the class is based primarily on face-to-face discussion with peers and the teacher, and in-class writing in a notebook without the use of technology. Describe how the class will revolve around a great deal of verbal and written reflection about personal growth as a writer. Students may then consider what this might look like and openly share how this type of instructional design impacts their use of writing assistance.
Talk often and take notes. When a teacher has multiple classes, getting to know students takes time, and we cannot remember all of the details. A way to authenticate learning is to ensure that students speak in person to the teacher and use physical notebooks, without tech support, to write. The teacher may take notes by including the date and the student's name, and jotting down relevant points on what the student is thinking or writing in real time. These notes help plan for instruction and reflect on student progress in real time.
Dedicate more time to instructional design. Take the planning with you to your prep, and leave most of the grading in class. In a writing-intensive class, students need to write extensively to the point that the teacher cannot possibly grade all of it. With this in mind, planning is critical to ensure that each minute of class time is maximized.

This type of intense planning includes a detailed review of the most recent class to plan for the next class meeting. The plan may include which students the teacher will meet with, for approximately how many minutes, and in what type of structure (small groups, pairs, or one-on-one); the goal of the meeting that highlights student-selected goals, teaching points, reflections on process and product; the materials the teacher will need to leverage learning; and a plan for collaborative and independent student work.

To give time to planning, grade the writing process in real time. Use in-class writing as opposed to an assignment that is sent home to write. The teacher confers with students about their writing during class. As a teacher speaks to students, reads their writer's notebook, and listens to their thinking, the teacher takes notes and, when appropriate, provides graded feedback on writing, either in pieces with a specific goal (e.g., writing a strong character description) or in a longer conference when a student reads a piece of writing that may showcase more than one writing goal.

The graded feedback changes as students make revisions and show improved writing as they advance toward the final product. This type of grading in real time eventually counts toward the final essay or product grade. This time allows educators to see what a student has learned and become familiar with how a student approaches writing, which results in the teacher knowing the student's writing very well. All of this information is then used to strategically plan for the next lesson.
While many students may get help with their writing, zeroing in on instructional design makes students better writers over time and encourages them to be more reflective in the moment. It's about teaching students how to improve their writing. It takes a thorough understanding of the writing process, along with thought-provoking struggle through frequent practice to better one's writing skills.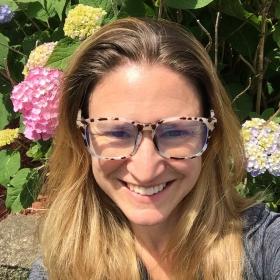 Kara B. Douma, Ed.D., is currently a pre-K to 12 supervisor of English language arts in New Jersey. She has a total of 18 years of teaching and supervisory experience in the areas of English language arts and special education. Dr. Douma also taught at the Center for Talented Youth at Johns Hopkins University, utilized her Learning Disabilities Teacher-Consultant (LDTC) certification in her work, and served for years as an adjunct professor in education at Monmouth University.
It is the policy of NCTE in all publications, including the Literacy & NCTE blog, to provide a forum for the open discussion of ideas concerning the content and the teaching of English and the language arts. Publicity accorded to any particular point of view does not imply endorsement by the Executive Committee, the Board of Directors, the staff, or the membership at large, except in announcements of policy, where such endorsement is clearly specified.